Support The District throughout the year
Partnerships throughout the year now available.
Did you know…
The District has 22 committees working on 26 action plans created to promote and revitalize downtown Quincy.
They produce 65 events throughout the year to bring community together with over 68,000 people experiencing downtown Quincy.
Highlight your business and establish an ongoing community presence throughout the year by partnering with The District. With over 65 ongoing programs, partnerships are flexible and may be tailored to fit the needs of your organization.
Please Click the Link below or call the office for more information: (217) 228-8696
---
Partner with The District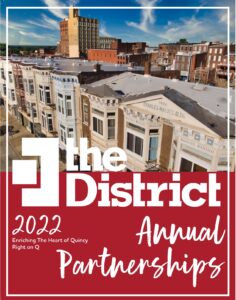 Contact The District at 217-228-8696 for information on becoming a Partner!
Alternatively, you can email Emily Lombardi at elombardi@thedistrictquincy.com
---
Become a partner. Be Right On Q With The District
Partnerships Include
Visionary Partner – Presence at events throughout the year
Annual Dinner
Concerts in the Plaza – 4 concerts in the series
District Seminar Series
Farmers' Market – 25 markets in the season
Noon Blues
Blues In The District – 6 concerts in the series
District Street Dance at Q-FEST
Feast Community Dinner
Progressive Dinner
Teal Pumpkin District Fest – Halloween Event
Loft Tour
Light the Park & The District
Christkind Market – New Location
It always makes a difference when someone goes the extra mile for you. It's the difference between a routine customer experience and one the builds fierce loyalty. Between an obstacle and an opportunity. Extra effort, rather, caring can change the way you think and act. Since you can't always pay it back, you pay it forward. And that extra effort usually comes exactly when it's needed most. Right on Q.
As Quincy-ans, you are Right on Q.
©2023 The District.
All Rights Reserved.