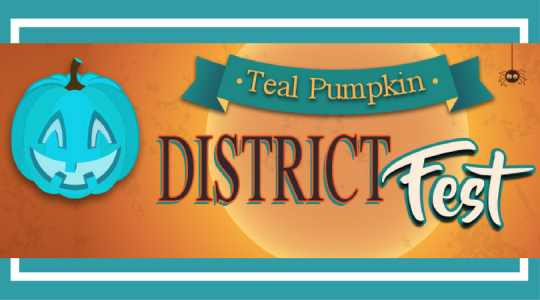 Join us in the Teal Pumpkin District Fest!
Presented by Quincy Medical Group on TBA DATE from 10a-2p.
What is the Teal Pumpkin Project? Teal Pumpkin Project is about creating a safe & happy Halloween that every child is able to fully take part in, by offering non-food treats as an alternative to candy.
You can find more information on the website: Teal Pumpkin
Schedule of Events!
10a-2p | Downtown Teal Trick-Or-Treat at participating businesses
Families will grab a map and look for the Teal Pumpkin in the windows
7a-12p | Quincy Farmer's Market

10a-2p | Washington Park Events/Activities
• Get your trick-or-treat bag with Quincy Medical Group
• Halloween themed games & activities for the kids!
• Pumpkin Decorating
• Face Painting & Caricatures
• Bounce Houses and Obstacle Course

10a-2p | Main Stage Gazebo (schedule TBA)
---
Businesses and Vendors
How to be involved | Fill out application – TBA
Open hours 10a-2p at your location, OR set up a space and activity at Washington Park!
MUST Provide a non food item for trick-or-treat – No food items
Ideas Include: glow sticks, stickers, Band-Aids, buttons, toothbrush, tattoos, pencils, crayons, bubbles, erasers, finger puppets, rings, cards, bookmarks…