Welcome to the Quincy Farmer's Market!
 Presented by Quincy Medical Group.
Saturdays, May – October from 7a-12p in Washington Park.
The Quincy Farmers Market is truly a community event, that brings people together from the region to buy directly from local Tri-State Area vendors/producers and enjoy the bounty of the locally grown produce, delicious baked goods, flowers/plants and beautifully hand crafted items.
All market vendors accept cash payments and some will accept credit and debit payments.  If the vendor does not accept debit or credit at their booth, Market staff can process credit and debit payments at the Market Information Booth.  Also, the Quincy Farmers Market accepts EBT (SNAP) and WIC vouchers are accepted at approved vendors.
Quincy Medical Group Presents FREE fitness and activities!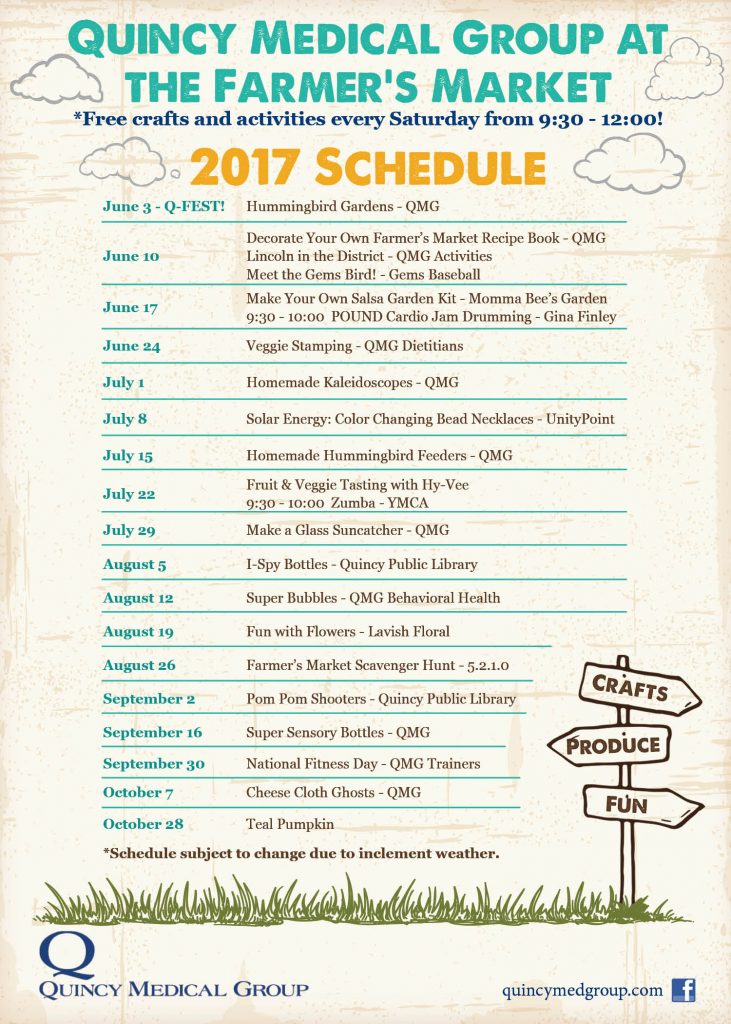 ---
VENDOR INFORMATION
Download 2017 Vendor Handbook
The market is also accepting prepared food vendors, as well as hand made and one-of-a-kind artisan vendors this season.
The Farmers Market run Saturdays, May – October from 7a-12p.
**Based on the 2015 customer survey, prepared food, coffee, cheese and bread vendors are desired and recommended to apply.
---
SPONSOR INFORMATION
Help support the Quincy Farmers Market
The Quincy Farmers Market is about to being and we are looking for sponsors. The Quincy Farmers Market strives to:
Support local farmers and businesses by giving them an available outlet to sell directly to the consumer;
Enrich the community by making farm fresh in‐season produce available to customers;
Inform customers about healthy and sustainable food choices;
Give customers access to locally produced baked goods and food products, and locally handcrafted items;
Promote a community gathering spot that creates a festive atmosphere and a community destination.
Download 2017 Partnership